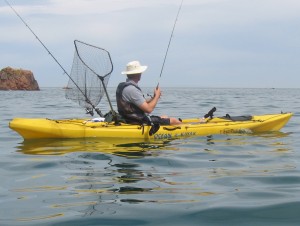 Dear Friends
Spring is definitely here.  The proof is that I hooked (and sadly lost) my first sea bass of the season.  Thankfully on a kayak a quarter of a mile away from civilisation no-one could hear me exclaim, "Oh deary me, a whopping great big sea bass has just snapped my line. Isn't that a shame?"  Okay, okay, so I might have used slightly stronger language.  Yes, I admit it, I swore.
It is funny how people think that vicars are offended by bad language.  The amount of times someone in the pub will say, "Oh sorry vicar" after they've said a rude word.  The truth is that we all know when we do something wrong don't we?  We all know that we shouldn't swear.  It's not particularly nice.  It's not uplifting or encouraging.  So why do it?  We swear for a whole bunch of reasons – because we think it sounds 'cool' or to be in with the gang, or because something's gone wrong or stressed us out – none of which are particularly good reasons.
And let's face it, swearing is just the tip of the iceberg.  The real question is why do we do things that we know we shouldn't do?  For all humanities advances in civilisation and technology, despite our wealth of knowledge and our ability to reason, we cannot tame ourselves.  It appears that despite what every self-help book and lifestyle guru will tell you (and they make a lot of money out of this stuff) we cannot exercise 100% self-control over our own thoughts and actions.  We think things, we say things and we do things we know we shouldn't do – even when we're doing our best to think, say and do the right thing.
Christians believe that God lives in them by his Holy Spirit and that this Spirit transforms, renews and redeems us from the inside. We believe that it is through getting closer to God (and not trying harder in our own strength) that we become the people that God created us to be – full of love, joy, peace, patience, kindness, goodness, faithfulness, gentleness and self-control.
And yes, I want those things, don't you?  So next time you see some sunburned bloke on a kayak and you hear some unsavoury words wafting across the water, go easy on him, he's a work in progress.
Your Friend in Christ
Gavin