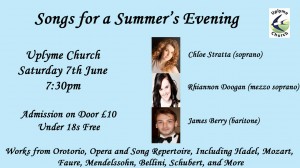 The concert,"Songs for a Summer's Evening", in the beautifully refurbished Uplyme Church, promises to be a very special evening. It is being held at 7:30pm on Saturday 7th June.
Local girl, Chloe Stratta, together with two other exciting young singers from Manchester, is presenting an evening of songs for a summer evening in Uplyme Church on Saturday 7th June at 7.30pm. Their repertoire will include both oratorio and operatic arias, and art song, including works by Mozart, Handel, Fauré, Schubert, and much more.
Chloe – an ex-Colyton Grammar School pupil – grew up in Lyme Regis,   and graduated with a first class honours degree in music from  Manchester University last year. In Manchester, she studied as a soprano under Catherine Mikic, and  she is now working with Ryland Davies and Debbie Rees in London, and Julie De'ath Lancaster in Devon. She is hoping to pursue a classical singing career.  Whilst at University,  she toured in Milan and Menaggio, Italy with the University's prestigious chamber choir, Ad Solem, and took part in numerous concerts. In her final year, she took the lead role of Venus in the university music society's performance of John Blow's 'Venus and Adonis', and also performed with the Halle choir.  Last year, she was the soprano soloist for the Lyme Bay Chorale's performance of Haydn's Creation  Mass, and this year for Sidmouth Choral Society's  performance of  Haydn's "Mass  In the Time of War", and  for a Fauré Reqiuem in Exeter Cathedral.  She is currently the Musical Director of the Uplyme Gospel Choir and  is a young leader for  B Sharp – the Lyme Regis youth music charity.  In 2012 she spent four months studying at Melbourne Conservatorium, Australia.At the concert on 7th June Chloe will be supported by two other exciting young singers from Manchester –  Rhiannon Doogan(mezzo soprano) and James Berry (baritone).  Rhiannon graduated with Chloe from Manchester University in 2013, having also studied under Catherine Mikic.  James is currently a student at the Royal Northern College of Music. 
Tickets available on the door will cost £10 but there will be no charge for children.