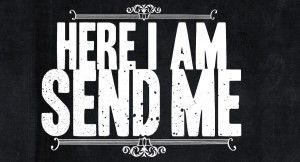 Recently at a meeting dedicated to the mission of Uplyme church to provide water resources in Zambia I taught the African song Thuma mina 'Send me…' At the time I suggested that whilst not many may feel called to places such as Zambia, we can 'send' ourselves in the form of our resources and I suggested that people sang the song as that kind of prayer (i.e. asking God to make us willing to give sacrificially)
A little while later I was challenged to reveal by what authority I was able to say that people didn't actually have to go, but could simply 'send money instead' this person reminded me that Jesus sent us to 'All the world'.
So how should we interpret this Great Commission, as it's been called? What does 'all the world' actually mean? Well for most of us the 'world' is a very tangible presence on our doorstep. It exists as an entity that seems to automatically 'rubbish' the whole idea of faith and regard gathering to worship as a 'quaint' activity for a harmless deluded minority. Indeed so 'worldly' has our country become that missionaries from the African continent have started to arrive to carry out mission here! Jo and I have often desired to abandon our ties here and do something 'positive' in what we call the third world, but as I scan journals such as Tear times, or MAF's 'Flightwatch' I can never find positions for music teachers or aromatherapists; so with a marked absence of linguistic or practical skills, I've had to conclude that my territory is the world of Choirs and Musicians and that this is where I can be a 'light to the world'.
So as I help Jo to move suits, shirts and ties some of which I have never worn from one room to another (we've got the builders and decorators in) it's another commandment, this time from John the Baptist that seems to be more incisive 'If you have two shirts, give one to the poor'. And this brings me back to the encouragement that I gave at that meeting. I never meant to suggest that we could buy our way out of the great commission. Indeed if the Spirit of Christ is burning within us, we have a hard time not sharing the good news. However the gift that we all have to share with people in countries such as Zambia is our resources and if in doing so we can learn to live minimally, as Jesus wants us to, we'll be doing ourselves a massive favour as well.
In the meantime for those who do feel a calling to serve oversees, perhaps in a gap year or on a more permanent basis; I pray that my words will not dampen any feeling of vocation that you have.