Art, Design and Architecture
'Jungendstijl and ArtNouveau'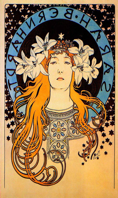 Led by Pam Simpson
Art and Design Historian at University of the Arts, London and Bath Spa University.
Thursday 17th August at 3.00pm
Uplyme Village Hall
Tickets £10.00
Which includes entry to the Preview and Official Opening of the Art Exhibition(18th/19th Aug) in Uplyme Church at 5.00pm following
the talk – with wine and canapés
All proceeds to Uplyme Church Zambia Water Project
Providing clean water and sanitation via Tearfund
Pam Simpson is an Art and Design Historian, she has been teaching in London art schools for thirty years, twenty of those years at Middlesex University. Pam moved her home to West Dorset but still teaches
part time in London for University of the Arts and also at Bath Spa University.
During the last year she has started teaching Art and Design courses in Bridport and is enjoying this very much.
The talk she will be giving is about 'Jungendstijl and Art Nouveau',
art and design and architecture in the period at the end of the nineteenth century and the start of the twentieth century.
Pam will be looking at painting, illustration, architecture, interior design
and the decorative arts.
Contact Church Office on 01297 444499 or using our contact form