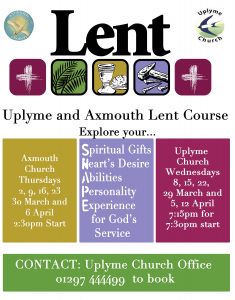 This year's Lent Course examines your SHAPE for God's Service, in which church members aim to understand their unique SHAPE, the gifts God has given them and how he might want them to use these gifts; for each person to find the ministry to which God is calling them, in the Church and in the world. Hopefully this will enable participants to live and serve with more joy, satisfaction and fruitfulness. This should build a healthy growing church, and will affect the way each person engages with their family, friends, job, local community and voluntary.leisure activities.
This course has a holistic approach and the six sessions will look at your…
Spiritual Gifts (God's unique gifts to you)
Heart's Desire (What motivates and excites you; what you love to do)
Abilities (your talents, knowledge and skills)
Personality (your character, personal qualities and strengths)
Experience (your life experiences and what you've gained from them)
… for God's Service.
Each Session leads to the next and so you will benefit if you attend as many sessions as you can.