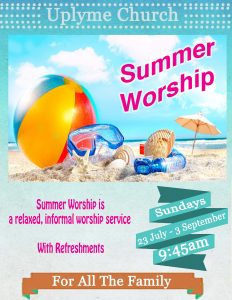 The schools break up this Friday, which means Sunday is the start of our Summer Worship and Superheroes Holiday Club! We start at 9:45am on Sunday 23rd July -3rd September. It's a relaxed service for the whole family with refreshments available, including some delicious brioche.
This Sunday's Summer Worship theme is "The Big Picture", the reading is Psalm 1:1-3 and the discussion question is "Where is your frontline? In what ways have you already seen God working in and through you there? What are its particular challenges?"
Evening worship at Uplyme Church is still at 6pm over the summer and each week we will have communion during this service. The evening theme this Sunday is "Affirm: Where am I with God?" and the reading is Romans 8: 31-39.