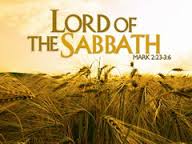 This week the theme is Mark 2-3 – The Kingdom Breaks In, and Opposition Mounts, with a reading of Mark 2: 13-28 . The questions are:  Do we choose to associate only with people like us? Have we got the courage and conviction of Jesus to take risks for the kingdom?
Junior Church is on. The children meet at Mrs Ethelstons from 9:50am and the leaders will bring them back to the church.
The evening worship is a more peaceful and reflective worship, with the same theme and an additional reading of Psalm 110, starting 6pm. Agape will be during the evening worship.