All live church services are now once again sadly cancelled during lockdown due to the latest government restrictions in response to the COVID-19 pandemic.
Uplyme church opening time for private prayer is now
WEDNESDAY AFTERNOONS 2pm to 4pm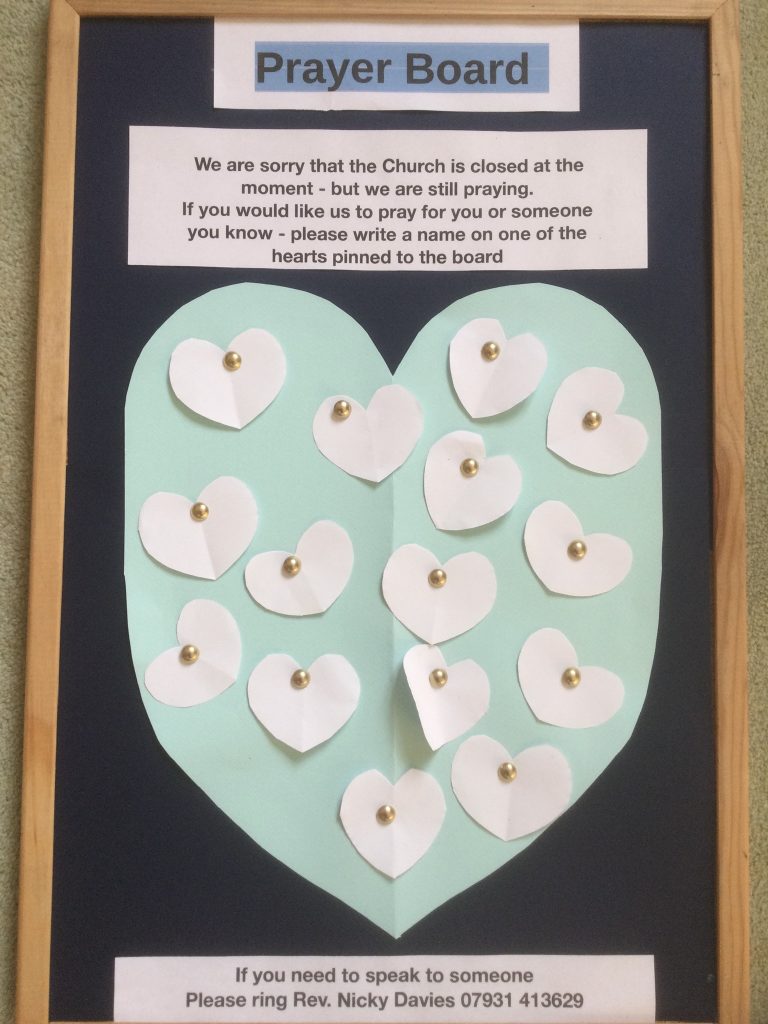 There is also a Prayer Board up in the church porch.
We know how important prayer is and you are therefore invited to write a prayer request for yourself or someone you know, on the board.
It is accessible at all times. Just bring a writing implement.
_______________________
ADVENT SUNDAY 29th. November 2020
Theme: The coming of the Son of Man Gospel: Mark 13:24-37
Time
Worship
Leading
Speaking
Reading
Leading Prayers
10:00
Morning Worship
(YouTube)
Jo Smith
Roger Grose

Mark 13:24-37
Andy
Soldan

11.00 Live Zoom Service for Advent Sunday
Led by the AVMC Readers
(Details to follow)

________________________________________

Week beginning Sunday 22nd November 2020
Uplyme service on YouTube – click here , still available with Nicky Davies speaking. The topic is 'Jesus, Hidden King' (Matt 25: 31- 46)
Notices –
We are very sad to announce that Alan Jones passed away peacefully in his sleep on Wednesday night 18th Nov. Please hold Esther and the family in your prayers.
Message from our Vicar Nicky – You may not all be aware that Philip Tolhurst, our amazing church treasurer, wants to hand over the role at the end of the year? This is a call out to those of you who may have accountancy or book-keeping experience. Your church needs you! Please reflect and pray to see if you may be being called to take on this crucial role? Philip is willing to do a full hand-over and you will be joining an active and supportive PCC team. Further details from Nicky on 07931 413629.
A note on finance from Philip (church treasurer) Gift Day September 2020 : Thank you to everyone who responded to our annual gift day appeal at the end of September. We received 32 (39) donations totalling £7,350 (£6,000) – 2019 figures in brackets. If you would like to make a one off donation you can now go click on DONATE on this webpage. For any other queries about church finances please email philipj.tolhurst@gmail.com
If you have missed any past services, or thought the sermon was so good you want to hear it again, try out the Nuggets below.
A prayer for love
Don't let your hearts be troubled
A Listening Church
Be kind, don't judge
Hearts on fire
Recognising Jesus
For Young People – Xplosion / The Vibe / Explore – our groups are sadly limited during lockdown – please pray for Simon snd our youth. Please contact Simon Smith (simons88@hotmail.com) for details.
___________________
For prayer requests or needs please feel free to contact our Uplyme Church prayer support from "The Prayer Fireplace Team".
David Dare david.dare@daviddare.com
Marilyn Kent marilynkent01@gmail.com
Kay & Simon Chaffin Johnson 01297 32984
Other enquiries – please call or email church office, Louise Collard (church administrator) will be happy to help you: Axevalleymc@hotmail.co.uk. The new office telephone number is : 01297 441986