The Parish Church of St. Peter and St. Paul, Uplyme welcomes you.



_____________________________________________
The church is now open every day for private prayer. Please do follow the health and safety rules to be found as you enter the building.

July 2021: Now that we are no longer restricted to numbers in the church building, we do not require you to "book" your place. However, we do all need to act responsibly and keep ourselves and others safe from COVID. Please therefore follow any precautions you may be given as you enter the building for worship.
______________________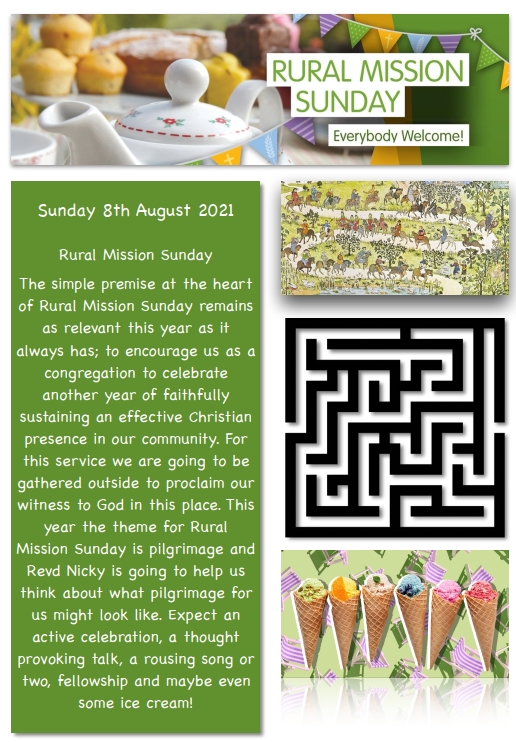 NEWS:
Rural Mission Sunday – Pilgrimage.
At the Morning Service on 8th Aug.
All ages welcome –
Ice Creams at the end!
COMMUNITY WALKS:
David Jones is back leading his community walks around the local area every 3rd Saturday. See his poster here.
______________________
Services from Uplyme for July/August are:
(More details on the Rota page)
SUNDAY 1st. August 2021 – Trinity 9
10.00 Holy Communion
4.00 pm Telephone Service
SUNDAY 8th. August 2021 – Trinity 10
10.00 am. Morning Worship

SUNDAY 15th. August 2021 – Trinity 11
4.00 pm Telephone Service
6.00 pm. Holy Communion
SUNDAY 22nd. August 2021 – Trinity 12.
10.00 am. Morning Worship
SUNDAY 29th. August 2021 – Trinity 13.
10.30 am. AVMC Team service at The Minster
All good wishes,
Nicky.
Rev Nicky Davies,
Team Vicar
Axe Valley Mission Community
——————–
There is a Prayer Board up in the church porch.
We know how important prayer is and you are therefore invited to write a prayer request for yourself or someone you know, on the board.
It is accessible at all times. Just bring a writing implement.
___________________________________
If you have missed any past services, or thought the sermon was so good you want to hear it again, try out the Nuggets below or click here for all past services and "livestreams".
A prayer for love
Don't let your hearts be troubled
A Listening Church
Be kind, don't judge
Hearts on fire
Recognising Jesus
For Young People – Xplosion / The Vibe / Explore – our groups are sadly limited during lockdown – please pray for Simon snd our youth. Please contact Simon Smith (simons88@hotmail.com) for details.
___________________
For prayer requests or needs please feel free to contact our Uplyme Church prayer support from "The Prayer Fireplace Team".
David Dare david.dare@daviddare.com
Marilyn Kent marilynkent01@gmail.com
Kay & Simon Chaffin Johnson 01297 32984
Other enquiries – please contact Louise Collard (church administrator) who will be happy to help you: axevalleymc@hotmail.co.uk or 01297 441986.