The Parish Church of St. Peter and St. Paul, Uplyme welcomes you.



_____________________________________________
The church is now open every day for private prayer.
COVID 19: We do all need to act responsibly and keep ourselves and others safe from COVID. Please therefore follow any precautions you may be given as you enter the building.
PLEASE NOTE THE UPLYME CHURCH FAYRE HAS BEEN POSTPONED UNTIL SPRING due to COVID safety aspects.
Services at Uplyme for end-November and December are:
(More details on the Rota page)
SUNDAY 28th. November – Advent Sunday.
10.00 am. Holy Communion and Posada
4.00 pm. Telephone Service
SUNDAY 5th. December – Advent 2
10.00 am. Holy Communion
6.00 pm. Evening Worship – "Darkness to Light"
SUNDAY 12th. December – Advent 3.
10.00 am. Advent Praise
4.00 pm. Telephone Service
6.00 pm CAROL SING – led by the Festival Choir – in the Church grounds – all welcome.
SUNDAY 19th. December – Advent 4.
10.00 am. "Joy to the World"
6.00 pm Service of Carols and Readings. Booking necessary
FRIDAY 24th. December – Christmas Eve.
3.00 pm. Nativity Service (Car Park)
11.00 pm Midnight Communion
SATURDAY 25th. December – Christmas Day.
10.00 am. Christmas Praise
SUNDAY 26th. December.
10.30 pm AVMC Holy Communion at THE MINSTER
(No Service at Uplyme)
__________________________
All good wishes,
Nicky.
Rev Nicky Davies,
Team Vicar
Axe Valley Mission Community
___________________
BACK BY POPULAR DEMAND: UPLYME CHURCH FILM NIGHTS.
Next film Friday 17 Dec.
They are FREE events and and you are encouraged to bring friends.
Doors open at 7.00 pm, film starts at 7.30 sharp.
Refreshments will be provided and/or BYO.
All are welcome.
For more details contact Mike or Jan on 442321 or see the poster in the Church / Porch.
__________________________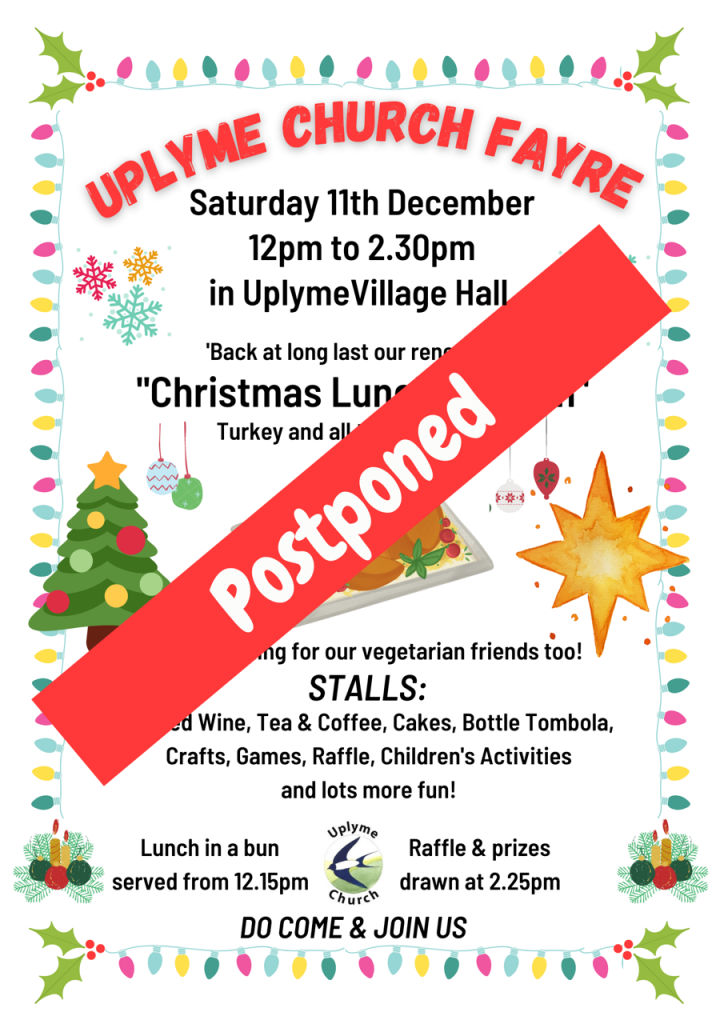 Uplyme Church Fayre POSTPONED UNTIL SPRING
and Christmas Lunch in a Bun.
PLEASE NOTE DATE AND VENUE CHANGE
Not to be missed – Saturday 11th December.
12 – 2.30pm in Uplyme Village Hall
_________________
YOUTH Work – the work started by Uplyme is now being developed and continued under Axe Valley Youth.
It is worth looking at their webpage and please consider supporting this important mission for our young people.
COMMUNITY WALKS: Sept – Dec 2021
David Jones is back leading his community walks around the local area every 3rd Saturday. See his poster here.
__________________________
——————–
There is a Prayer Board up in the church porch.
We know how important prayer is and you are therefore invited to write a prayer request for yourself or someone you know, on the board.
It is accessible at all times. Just bring a writing implement.
___________________________________
If you have missed any past services, or thought the sermon was so good you want to hear it again, try out the Nuggets below or click here for all past services and "livestreams".
A prayer for love
Don't let your hearts be troubled
A Listening Church
Be kind, don't judge
Hearts on fire
Recognising Jesus
For Young People – Xplosion / The Vibe / Explore – our groups are sadly limited during lockdown – please pray for Simon snd our youth. Please contact Simon Smith (simons88@hotmail.com) for details.
___________________
For prayer requests or needs please feel free to contact our Uplyme Church prayer support from "The Prayer Fireplace Team".
David Dare david.dare@daviddare.com
Marilyn Kent marilynkent01@gmail.com
Kay & Simon Chaffin Johnson 01297 32984
Other enquiries – please contact Louise Collard (church administrator) who will be happy to help you: axevalleymc@hotmail.co.uk or 01297 441986.